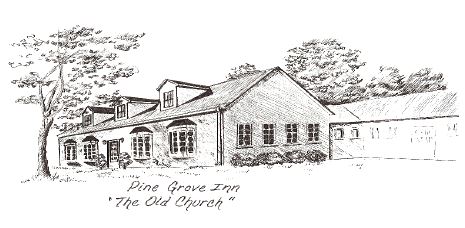 The new church called its first deacons in November, 1959, as specified in the Church Constitution. They were W.H. Altemus, Allen Callis, and W.A. Conner, Jr. Fred Kimsey and Francis Rowe joined the Board of Deacons the following autumn as the membership rose.
Church choirs officially entered the picture at this time. A youth choir provided special music at the Organization Service. Adult choir scheduled rehearsals on Wednesday evenings. Stuart Conner was our first choir director, followed by William Dillon.
Charter members Liston and Rachel Shackelford lived directly across the highway from Pine Grove Inn. They kept a watchful eye on the church building and opened their home and hearts to all. In later years, Rachel boarded VIMS international students and introduced them into the fellowship. Many of us came to call her "Gramma."
Recognizing the need for a pastor's home, the congregation purchased a five-room dwelling in January, 1962. This parsonage at 1714 Azalea Point Road was maintained by the church and occupied by several pastors, beginning with Dick Stennett.
Rev. Stennett resigned in May, 1962, to pastor the Gordonsville Baptist Church, and the Rev. John Coburn served as interim pastor until October, 1962, when the church called the Rev. Robert A. Martin.
Early in Rev. Martin's four-and-one-half years with us, on February 3, 1963, the church began to broadcast the Sunday Morning Worship Service over local radio station WDDY. Their Call to Worship every Sunday was, "Brethren, We Have Met to Worship." Initially our radio time was three-quarters of an hour; under Pastor Bullock we increased that to one hour. This ministry was sponsored for many years by the businessmen of the community. In 1999, our congregation assumed financial support for this mission work.
We have also participated in interdenominational Easter Sunrise Services at VIMS since 1963 with our Methodist brethren.
Pastor Martin also led the church in upgrading its physical plant. A library was started, an organ was purchased for the auditorium and the educational facilities were enlarged again. Carmine Builders, Inc., built a 30 X 79 foot children's wing, which included a fellowship hall and kitchen facilities. This Sunday School building was needed to accommodate a fifty percent increase in membership. It was completed in July, 1964, at a cost of $15,000.
Walden and Katherine Carmine recall a good story from this time. Walden was called to the church one evening to confer with Bob Martin about the construction. Katherine was getting ready to go to a W.M.U. circle meeting at Doris Riley's house and needed their car. The only vehicle at home was a World War II Army weapons carrier truck. Katherine made sure that she could operate it before dressing for her meeting, then phoned Walden to say she needed the station wagon NOW. When he did not appear shortly, she determined to drive the military truck. Her first challenge was climbing into the cab dressed in a straight skirt. Backing out wasn't too bad, but finding those forward gears was more difficult. She lurched down Laurens Road, the engine grinding in a low gear. Mercifully, Walden met her at Terrapin Cove Road.
Gloucester Point Baptist Church had a strong children's program during the '60's. This was evidenced by a Girls-in-Action Coronation Service held in October, 1962, honoring four girls who had earned the rank of Queen. Also, our church organized a Junior and Cadet Girl Scout troop in 1966 to join Boy Scout Troop 110. Forty girls participated in this outreach effort.
Rev. Martin resigned in January, 1967, to accept a call to pastor Confederate Heights Baptist Church in Richmond. Rev. C.L. Fisher served as Interim Minister at Gloucester Point Baptist until June, when the Rev. Archer G. Turner became our new pastor.
Mr. Turner came to Gloucester Point Baptist directly from Southwestern Baptist Theological Seminary, where he had received his Bachelor of Divinity Degree. He ministered with us for two brief years, then moved to James Madison College in Harrisonburg to become the Baptist Student Director, a specialized ministry to young people. Archie's talent for music and keen interest in young adults led him to organize a youth choir at Gloucester Point Baptist. Also, the church library was significantly expanded during his tenure.
Our church was "between pastors" for twenty months: June, 1969 to February 1, 1971. However, we were not without leadership. The Rev. David McAfee served for a brief time as interim pastor; then, the Rev. Byron McCreary stepped in as supply pastor until we called the Rev. Andrew W. Bullock to be our minister.