2019 SPORTS CAMP!!!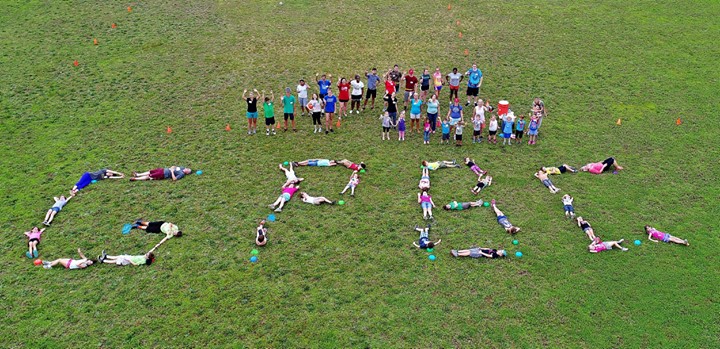 ---
Everyone is welcome so mark your calendars today for GPBC Sports Camp June 17-21, 2019 6:00pm to 8:30pm! Bring your children, 4 through 12 years old for fun and fellowship while learning skills in Soccer, Basketball, Flag Football, Golf and more!
The cost is $27.00 per child (includes a T-shirt) & scholarships are available.  Hope to see you there!
Mission: "Love God, Love Others & Serve in the World"
For questions:
Contact Paige Townsend at 804-642-2555 or Email: Coordinator@gloptbaptist.org
Sports Camp Flier can be found here: fliers 2019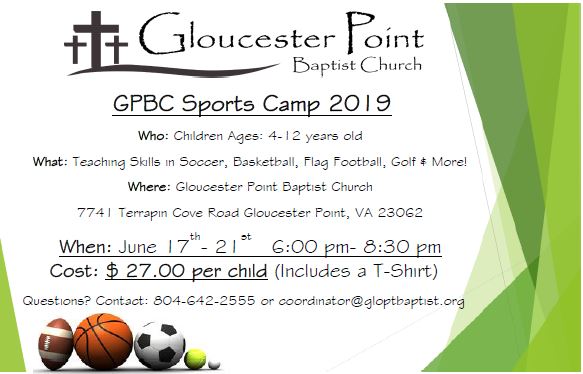 ---
REGISTRATION HAS BEGUN!
Download, print & complete the registration form (available below).
Payment can be made:
1) the first day of camp,
2) by mail (P.O. Box 305, Gloucester Point, VA 23062) OR
3) return the form to Gloucester Point Baptist Church (7741 Terrapin Cove Road)
---
FORMS
The Registration Form can be downloaded here: GPBC Sports Camp Registration Form 2019
The Media Release Form can be downloaded here: GPBC Media Release Form
GPBC loves to share our Children & Youth experiences with the community whether through the press, radio, Facebook or our website as a means of informing the public of our programs, activities, and accomplishments.
Without parent or guardian permission, GPBC will not release any personally identifiable information that includes the name of you, your child or the date and place of a particular event. Parental permission is required to interview, photograph or film Children & Youth under age eighteen (18).
Crowd shots that are not meant to identify individuals and photographs for GPBC will be exempt from the parental permission requirement.