As the history of Gloucester Point Baptist Church unfolds, each of us who are involved truly believe that this is Christ's story. It is with hearts full of love and gratitude to our Heavenly Father that we now continue to celebrate for more than sixty years as His church.
Every congregation develops distinctive characteristics. At Gloucester Point Baptist we have always had a heart for missions. This is seen by our witness to individuals as well as our enthusiastic support for mission efforts around the world. Interwoven with this larger purpose is another thread: we have come to be known as a "caring church". We reach out to the community with welcoming arms and visitors feel the accepting love of our fellowship.
Hope you enjoy reading Our History:
This history was compiled by Linda Breaks, our church historian, with contributions of stories, memories and facts by members of the congregation. Sketches by Leslie Belvin and photos complied by Melissa Ashe.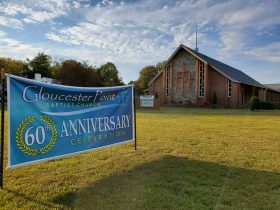 Details of our 60th Anniversary Celebration can be viewed here.