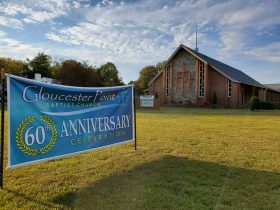 The Gloucester Point Baptist Church celebrated our 60th Anniversary on October 27, 2019. The celebration began with a Special Sunday School at 9:30 a.m. with Pastor Bud Goude.
At 11 a.m. the morning worship included a message by Dr. John V. Upton, Jr., Executive Director of the Baptist General Association of Virginia.
The morning service was followed by a Homecoming Covered Dish Dinner at 12:15 p.m. with display centers relating to our past, present, and future.
Following the meal, we enjoyed an afternoon program of Celebration of Music and Member Testimonials at 2:00 p.m.
60th Bulletin:  20191027_GPBC60th
60th Insert: 20191027_GPBC60th_insert
We look forward to worshiping with you!
For questions, please call the church at (804) 642-2555.